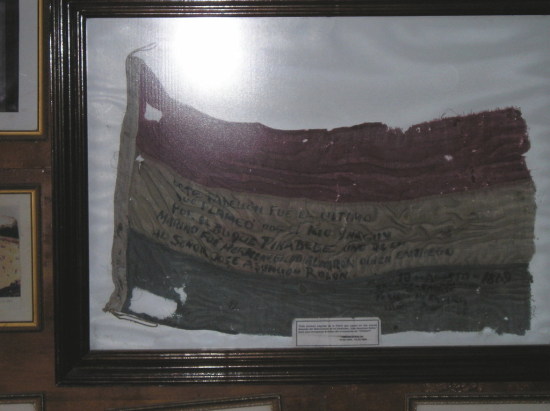 The inscription at the flag says:
"This flag was the last one to wave on the Yhaguy River, on the boat Pirabebe. One of the sailors was Hermenegildo Almirón, who gave this to Mr. José Asunción Rolón.
August 18, 1869"
I'm back at the helm after a quick vacation trip. I visited the historic site of Vapor-Cué ("Old Steamboats' Place), a site near the town of Caraguatay, where the last seven units of the Paraguayan Navy (including a small warship) were ran aground by Paraguayan sailors so they couldn't fall into the hands of the Brazilian forces in 1869, during the final skirmishes of the Triple Alliance War that Paraguay fought to the bitter end against the combined armies of Uruguay, Brazil, and Argentina (1864-1870).
I'll try to post some photos. Click on them to see a larger version.
After spending three days at Vapor-Cué, we went to the town of Piribebuy for some additional rest. All in all, we are thankful for this trip.